Events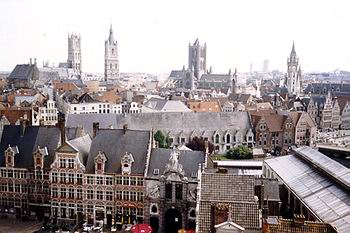 Skyline of Ghent
Several tours of important historic and contemporay urbanism and architecture have been scheduled during the EuroCouncil: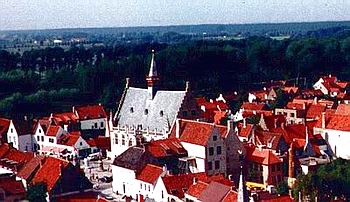 City of Damme, Flanders
Besides the announced walking tours we will: -- see the European Community headquarters in Brussels, -- walk the Rue the Laeken, -- stroll through the "Galeries St. Hubert", -- visit the Garden-Cities "Floréal" and "Le Logis", -- visit Ghent on our way to Bruges, -- walk historic Bruges and visit its "Béguinage" -- and stop at the beautiful town of Damme on our way to Knokke-het-Zoute.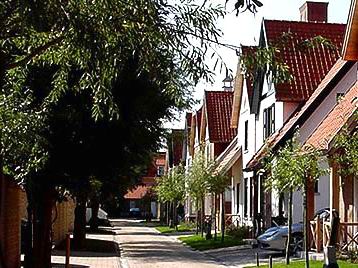 Witte Duiven, Knokke Heist, Flanders (2002)
by Arcas Group
"Living in a traditional urban environment is much more enjoyable, and not more expensive to build than the usual contemporary developments. Therefore, and in order to achieve the highest social qualities it should become the general standard for new developments."
Count Léopold Lippens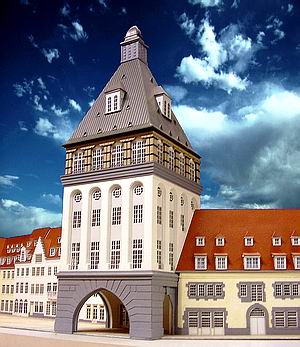 Municipal Social House
by Léon Krier & Arcas Group
We will experience the particular charm of Knokke-het-Zoute, a typical resort town of the Belgian North Sea coast, location of the DPZ Heulebrug development".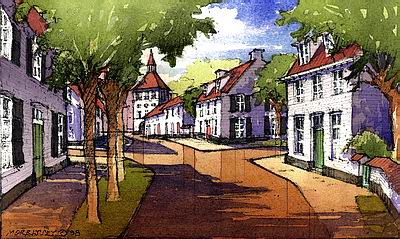 Heulebrug Neighborhood near Knokke-Heist, Vlaanderen
Master Plan by Léon Krier and Duany-Plater&Zyberk and Company
(Copyright 1998 Drawing and Watercolour, Michael B. Morrissey, MRAIC)
Heulebrug, Masterplan for the Growth of Knokke-Heist
Léon Krier and Duany & Plater-Zyberk and Company
Masterplan of Heulebrug, Knokke-Heist, Vlaanderen
byLéon Krier and Duany & Plater-Zyberk and Company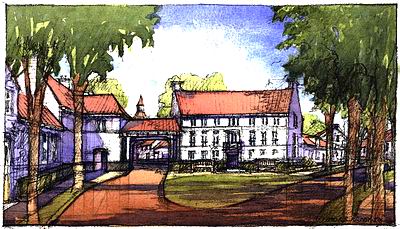 Heulebrug, North East Entrance
by Léon Krier and Duany & Plater-Zyberk and Company
(Copyright 1998 Drawing and Watercolour, Michael B. Morrissey, MRAIC)