KATARXIS is approaching a direct hits score of 6000 with visits from over 50 countries from all over the world. We are getting ready to soon present the second edition with a great variety of new projects, designs and arguments.Your feedback has been very encouraging and inspiring.
Thank you for supporting KATARXIS! Please contact us with your comments, information and submissions at the following email: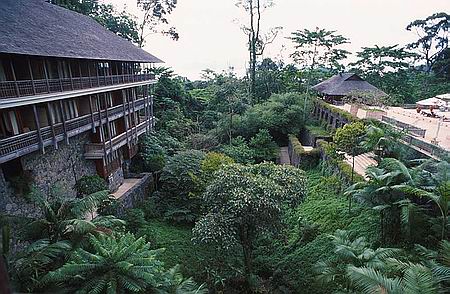 Datai Hotel in Pulau Langkawi, Malaysia (1993)
by Kerry Hill architects (Australia)
Client: Teluk Datai Resorts Sdn Bhd
(Photo by Albert Lim)

This project of extreme ecological intelligence and articulate understanding of the natural and cultural
environment of the Malaysian context, has been awarded
by the Aga Khan Awards for Architecture 2001.

(By courtesy of the Aga Khan Award for Architecture)
KATARXIS 02/1 Under Construction
Under the heading of Cities, Houses and Monuments, the next issue of KATARXIS will present substantial features on New Urbanism with works by:

Duany&Plater-Zyberk (USA), Michael Morissey (USA), Moule&Polyzoides (USA), Dover&Kohl (USA), Vince Graham (USA), Michael Mehaffy (USA), Rob Krier (Germany), Mulhern&Steil (Luxembourg), Oscar Machado (USA), Julio Cesar Perez (Cuba), Chip Kaufman (Australia), and many other architects and urbanists...

We also hope to receive material from China and from Latin-America!
Townhome in Baton Rouge, Louisana
by Mike L. Waller
(The Charrette Design Group)

"The design solution was a "Victorian" creole townhome double characterized by roof brackets, a style common to the New Orleans Vieux Carre. Finish details included segmented arch cottage windows, slate roof, longleaf heart pine floors,cypress cabinetry and doors."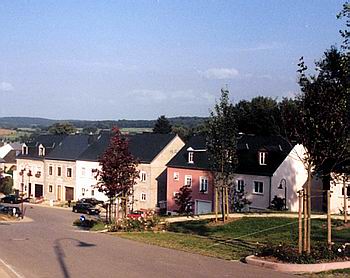 Village extension in Clemency, Luxembourg
by Mulhern&Steil architects, Luxembourg
(Photo by Colum Mulhern)

A municipal initiative of subsidized housing within traditional urban and architectural principles. The project has been supported by the National Fund for Affordable Housing (Fonds National pour le Logement a Cout Modere)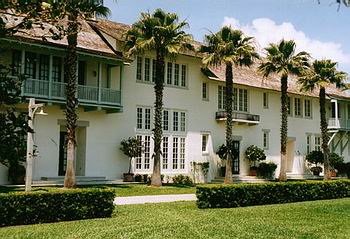 Rowhouses in New Town of Windsor
by Merrill, Hatch and Pastor architects
We will present again a large variety of built projects and designs by Geoffrey Bawa, Leon Krier, Rob Krier, Scott Merrill, John Blatteau, Robert Adam, Mike Waller, Charles Warren, Colum Mulhern, Scala Architects, Eric Watson, Janusz Maciag, Gabriele Tagliaventi, Jose Cornelio da Silva, Jose Franqueira Baganha,David Mayernick, Michael Lykoudis, Samir Younes, Victor Deupi, Richard Ekonomakis, Liam O'Connor, and many other contemporary traditional architects from the USA, Europe, Australia, Africa, Asia and the Islamic World.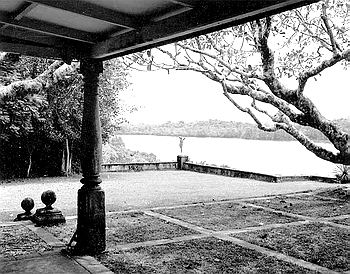 Residence in Sri Lanka
by Geoffrey Bawa

(By courtesy of the Aga Khan Awards for Architecture)


" Architecture, a humanized pattern of the world, a scheme of forms on which our life reflects its clarified image:

This is its true aesthetic, and here should be sought the laws -tentative, at first, but still appropriate -of that third "condition of well-building", its delight. To combine these "laws of delight" with the demands of "firmness" and "commodity" is a further problem: in fact the practical problem of the architect. "

Geoffrey Scott
"The Architecture of Humanism"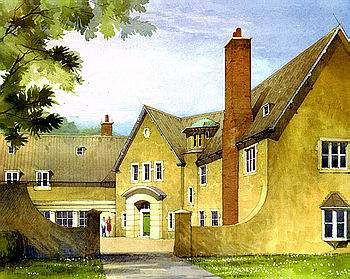 New House in Yorkshire, England
by Robert Adam Architects
" The humanist instinct looks in the world for physical conditions that are related to our own, for movements which are like those we enjoy, for resistances that resemble those that can support us, for a setting where we should be neither lost nor thwarted. It looks, therefore, for certain masses, lines, and spaces, tends to create them and recognise their fitness when created. And by our instinctive imitation of what we see, their seeming fitness becomes our real delight. "

Geoffrey Scott
"The Architecture of Humanism" (W.W.Norton&Company)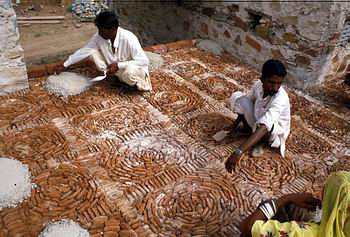 The Barefoot Architects at Work in Tilonia, India
The Aga Khan Awards for Architecture 2001
(by courtesy of the Aga Khan Awards for Architecture)
We will feature a special section on Sacred Architecture with projects by Hassan Fathy, Leon Krier, Abdel El-Wakil, Duncan McRoberts, Julia Morgan, Michael Imber etc. presenting New Traditional Architecture for places of worship in a variety of geographical and cultural settings.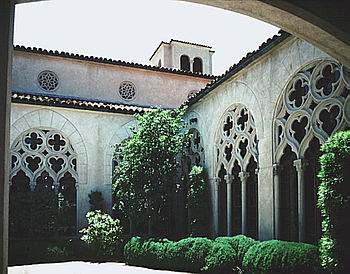 Chapel of the Chimes, Oakland, California
View of Nave Exterior of Main Chapel
by Julia Morgan (1926-1930)
(By courtesy of Mary Ann Sullivan)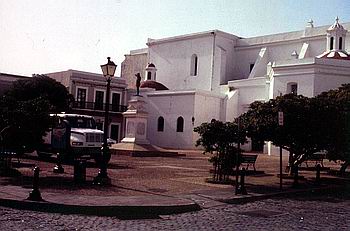 Square and Church in San Juan, Puerto-Rico
(Photo by Lucien Steil)
We are very pleased to present a major feature on the Aga Khan Awards for Architecture and present a series of contemporary traditional projects from the Islamic World. In the same context we will document substantially the architectural work of Hassan Fathy.

The Aga Khan Trust for Culture has graciously allowed KATARXIS to use its impressive visual files on Islamic architecture and urbanism and we are very thankful to benefit from this privilege.

We have infact a very rewarding access to exceptional documents demonstrating the continuity of sound cultural traditions and intelligent contemporary adjustments in many parts of the Islamic world.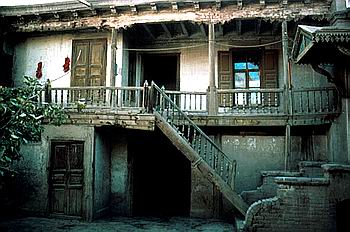 Traditional Courtyard House
Xinjiang Uygur Zizhiqu (China)

(Photo by Cristopher Little)

(By courtesy of the Aga Khan Trust for Culture)
Among other various and numerous content features of KATARXIS 02/1 we like to mention an interview between Nikos Salingaros and Leon Krier on highrise buildings and modern urban architecture, -an interview with Robert Adam and Matthew Hardy from INTBAU on Traditional Architecture and Globalization, -as well as writings on New Urbanism and New Traditional Architecture by Andres Duany, John Massengale, Jose Cornelio da Silva, Steve Mouzon, Robert Adam, Michael Morissey, Michael Mesko, Michael Mehaffy, Nikos Salingaros, etc.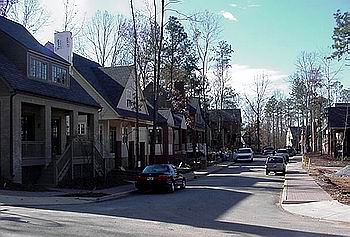 Street-view in New Town Mt.Laurel, Alabama
by Duany&Plater-Zyberk and local architects

(Photo by Gary Justiss)
In collaboration with "The Friends of Schinkel" we will present projects of K.F. Schinkel and other German 19th century classicists, as well as a series of Urban Villas in Potsdam under the influence of K.F.Schinkel and Ludwig Persius.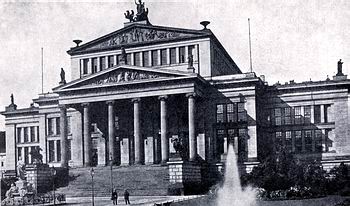 Royal Theater in Berlin (1818-1821)
by Karl Friedrich Schinkel

(from "Geschichte der Baukunst",by Dr.D.Joseph)
Besides a very comprehensive profile on Contemporary Traditional Architecture and Urbanism, the Arts section of KATARXIS 02/1 will include new pages on music, sculpture, jewelry, etc. in addition to the sketching and painting ones.

We consacrate a special feature to Stefania de Kenessey's "Derriere Guard" interdisciplinary Art encounters dedicated to Contemporary Traditional Arts.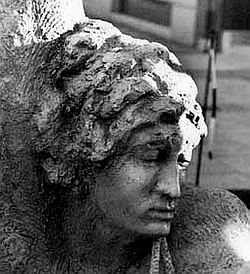 Head Detail of Sculpture, Friedrichstrasse, Berlin
by Rob Krier, architect and sculptor
".....the end of the twentieth century is a historic juncture where only one "radical" act finally remains: to return to the past -selectively, imaginatively, but decisively....Nothing can be more provocative right now than to return to long-forgotten, long-abandoned ideas rooted in the distant past....To rediscover and to reinvent historic forms and techniques: this is truly cutting edge. "

Stefania de Kenessey

(by courtesy of American Arts Quarterly)