The Design Process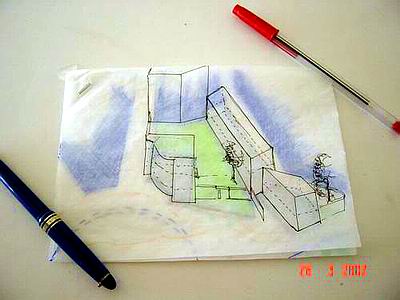 Volumetric Diagram of Project Site
(Photo by First Year Architecture Students)
The design process has been scheduled over a five weeks period and started with a thourough site study and documentation. In the same time the students were asked to investigate the volume requirements, as well as to check the project impact in the existing context. They were encouraged to use diagrams and preliminary design sketches to analyze both the potential of the building site and to engage into first parti options.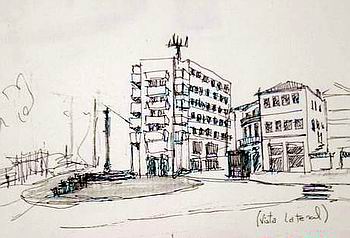 Project Site Sketch
(Photo by First Year Architecture Students)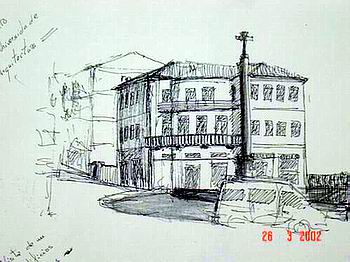 Project Site Sketch, Existing Building
(Photo by First Year Architecture Students)
The students organized themselves in groups from two to maximum five students and were invited to interact as much as useful among the groups to gather information and discuss design strategies. Informal class meetings and reviews were instrumental to focus each group on the particular aspects of their preliminary partis. The design process has now entered (after three weeks) a final term and students are working to complete, refine and prepare their projects for final presentation. Their projects will be reviewed by a jury composed of faculty, practicing architects and urbanists, and local planning officials and politicians at the end of April after a design process of five weeks.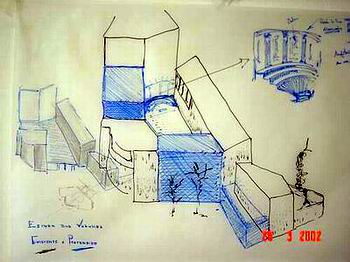 Volumetric Diagram of Building Program
(Photo by First Year Architecture Students)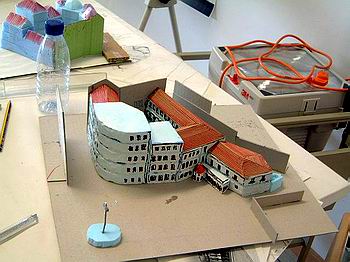 Study Model of Project, Team A
Students: Manuel and Ricardo
(Photo by First Year Architecture Students)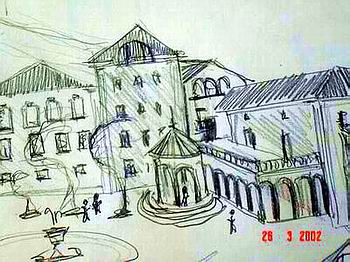 Parti Sketch, Team A
Students: Manuel and Ricardo
(Photo by First Year Architecture Students)
Study Model of Project, Team B
Students: Bruno, Liliana, Nuno, Hugo, Silvia
(Photo by First Year Architecture Students)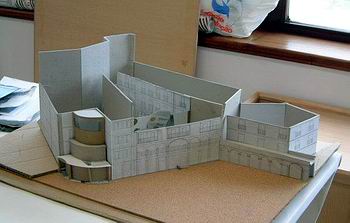 Study Model of Project, Team B
Students: Bruno, Liliana, Hugo, Nuno, Silvia
(Photo by First Year Architecture Students)
Study Model of Project, Team C
Students: Anna, Daniela, Pedro
(Photo by First Year Architecture Students)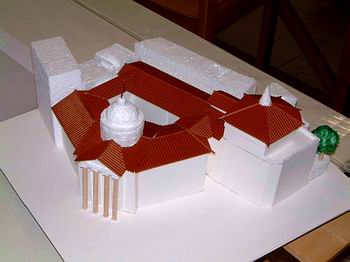 Study Model of Project, Team C
Students: Anna, Daniela, Pedro
(Photo by First Year Architecture Students)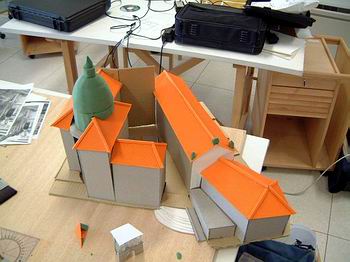 Study Model of Project, Team D
Students: André, José, Nelson
(Photo by First Year Architecture Students)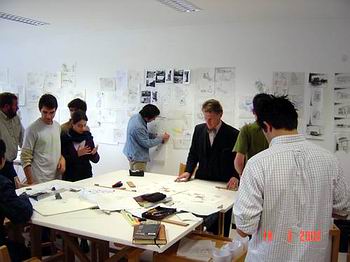 Class Meeting and Project Review
(Photo by First Year Architecture Students)