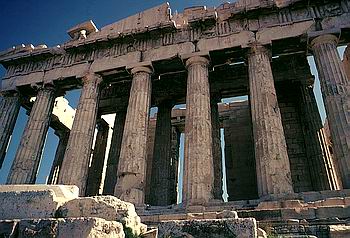 The Parthenon, Athens (447 B.C-436 B.C)
by Callicrates and Ictinus
(Photo by Mary Ann Sullivan)
"In 480 B.C., the Persians took the Acropolis and burned both temples, the Parthenon under construction as usual...."
Vincent Scully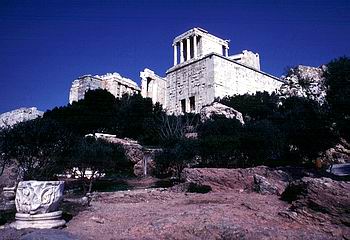 View of Acropolis, Athens
(Photo by Mary Ann Sullivan)
"After the war, the Greek states agreed to leave all the shrines destroyed by the Persians in ruins as a fitting memorial to impiety, but a generation later Pericles unilaterally set the treaty aside, and his new campaign of building was begun."
Vincent Scully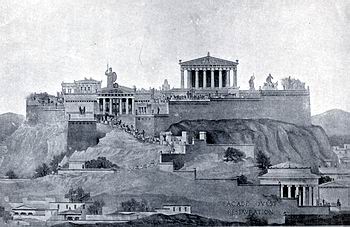 The Acropolis of Athens
Reconstruction by d'Espouy
(Geschichte der Baukunst, Dr. D. Josef, Leipzig, 1912)
"Therefore, as the contemporary Temple of Hera at Paestum, for example, stands heavily locked into the plain, as solid and permanent as the mother who shelters us, so the Parthenon rises, turning on its height, the embodiment of a collective will impossible for us to fix or dominate with our individual minds, asserting the victory of the city of Athens over everything."
Vincent Scully
"Architecture, The Natural and The Manmade"
(Published by St. Martin's Press, New York)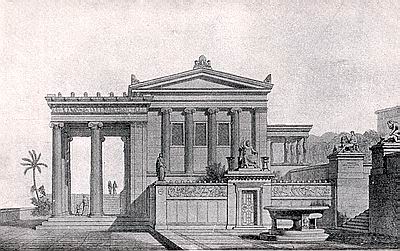 Erechtheion, Acropolis of Athens (421-406 B.C.)
Reconstruction by Bühlmann
(Geschichte der Baukunst, Dr. D. Josef, Leipzig, 1912)
Architecture, Memory, Commemoration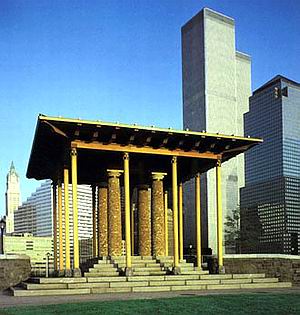 Battery Park City Pavilion, New York
by Demetri Porphyrios Associates
Commemoration is not about remembering acutely and relentlessly destruction, terror, fear, etc. but about overcoming these moments of unbearable pain by moral and material acts of reconstruction -- reconstruction of the integrity and dignity of human existence, --reconstruction of homes and monuments, cities, towns and villages as the unalienable expressions of permanence and of a transcendant continuity of civility, urbanity and community..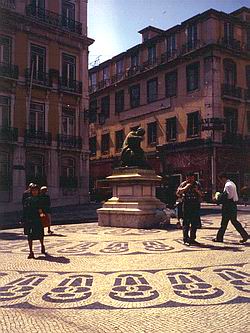 Public Space and Monument in Lisbon
(Photo by Lucien Steil)
Neither the immensity of emergence, chaos and panick, nor the following reactions of despair, anger, helplessness, fear, etc. can generate more than fragmented and painful records of events where reason and humanity have temporarily abandoned the world to the unchained forces of evil.
Commemoration is infact the result of a healing process and probably it is the healing itself, a healing allowing to reorder the world and reassess the meaning of human existence within its historical and cultural dimension, within its political and geographical boundaries, within the dialectics of the individual and the community.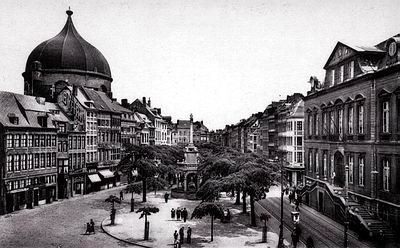 Place du Marché, Liège, Belgium
(Postcard from Joel Crawford's Archives)
Commemoration consacrates the reconstruction of memory of dramatic, tragical, heroic or mythic events by rituals, signs, places and monuments of collective and civic importance.It translates the momentary shock - caused by the brutal and sudden irruption of death, destruction, terror and horror - into durable acts of reconstruction, - reconstruction of a community's identity, its historical continuity, its moral and civic cohesion, its faith into unalienable ideals of human civilization.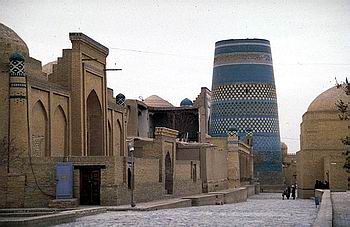 Ichan-Kalan Conservation, Khiva, Uzbekistan
Kalta Minar
by The Uzbek Institute of Restoration (1975)
(Photo by Reha Gunay)
Courtesy of The Aga Khan Award for Architecture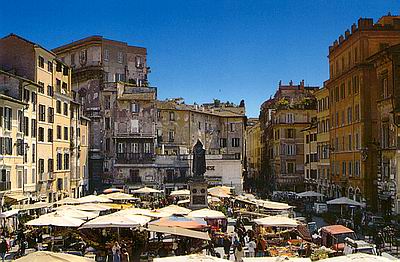 Campo de' Fiori with Statue of Giordano Bruno, Rome
(Photo by Massimo Cirilli)