"The word type presents less the image of a thing to copy or imitate completely, than the idea of an element which must itself serve as a rule for the model."
Quatremère de Quincy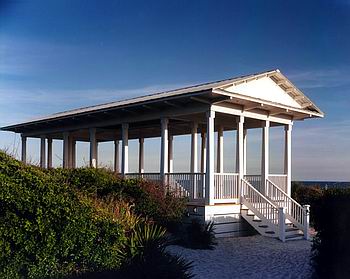 Central Beach Pavilion, Seaside, Florida
by Eric Watson
"In every country, the orderly art of building was born from a pre-existing seed. Everything must have an antecedent; nothing whatsoever comes from nothing, and this cannot but apply to all human inventions. We observe also how all inventions, in spite of subsequent changes, have conserved their elementary principle in a manner that is always visible, and always evident to feeling and reason.This elementary principle is like a sort of nucleus around which are assembled, and with which are consequently coordinated, all the developments and the variations of form to which the object was susceptible. Thus did a thousand things of all sorts reach us; and in order to understand their reasons, one of the principal occupations of science and philosophy is to search for their origin and primitive cause. This is what ought to be called type in architecture as in every other area of human invention and institution."
Quatremère de Quincy
"The Historical Dictionary of Architecture"
Translation by Samir Younés
(Andreas Papadakis Publisher)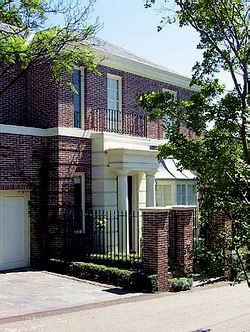 New House in Melbourne, Australia
by Cristopher Doyle
"A building type is a generalized, unbuildable idea of a building containing within it all the possible examples of actual buildings of that type that have been and can be built. The types are discovered in nature which contains any number of types including those embodied in the acts of men and the political forms of states."
Carroll William Westfall
"Architectural Principles in the Age of Historicism"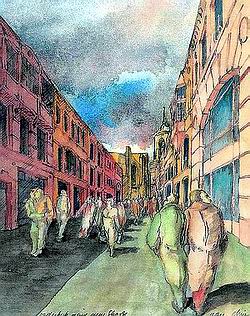 New Town of Ouderkerke, Holland
by Rob Krier (Krier & Kohl, Berlin)
"Here it is argued that a building imitates a type which is timeless. The type provides a symbol of the purpose which the building embodies, but the specific character of that symbol is provided by the conventions current at the time the building is designed. The particular building is a conventional sign within which is imbedded the natural symbolism of the type. Signs point to particular meanings such as functions and the relative importance of similar things, while symbols embody the larger purposes that enliven the aspiration to live the good life of justice and nobility."
Carroll William Westfall
"Architectural Principles in the Age of Historicism"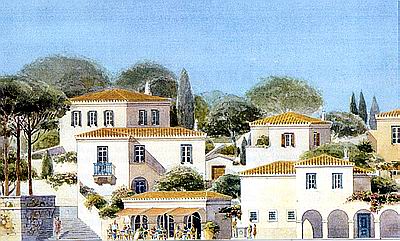 Extension of the Town of Spetses, Greece
Elevation of the Main Square
by Demetri Porphyrios Associates
(Picture from A.D. 'New Practice in Urban Design' 1993)
Typology, Type and Composition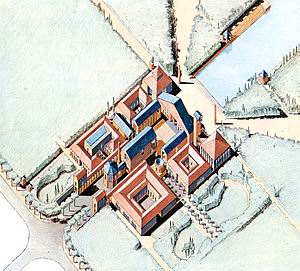 School in S. Quentin en Yvelines, France (1977-1979)
by Leon Krier
"--A Typology represents the classification of buildings according to their type.
--The Type is the organizational scheme of a building in plan and section.
--A Type evolves until it reaches its rational, logical and most simple form.
--The degree of complexity of a traditional type corresponds to the degree of complexity of its functions.
--The typological complexity is not a purpose in itself but it is a non-ambiguous expression of a functional hierarchy.
--It is mostly composed of simple spaces and volumes.
--The plastical quality of the external volumes is the logical and clearly articulated expression of the interior volumes.
--Either symmetrical or asymmetrical, or mono or poly-symmetrical, a composition is always justified and legitimized at a typo-logic level, so to avoid any arbitrary uniformity or complexity, regularity or irregularity.
Leon Krier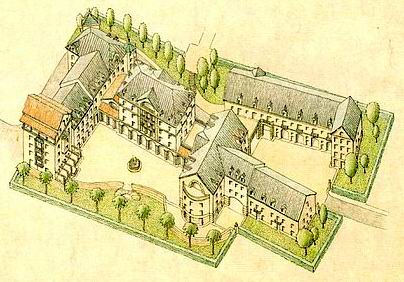 Urban Residence for Senior Citizen, Grevenmacher
by Mulhern & Steil, Luxembourg