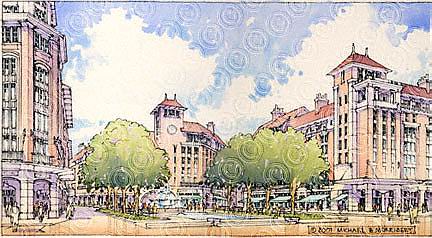 Lenexa City Center, Town Square
by Robert Kramer and Michael B. Morrissey
Lenexa City Center
Lenexa City Center, Town Square Detail
by Robert Kramer and Michael B. Morrissey
"The city of Lenexa, Kansas selected the Haile Group to design and develop a new city center for this expanding suburb outside of Kansas City. This project belongs to a growing trend in America to build dense town centers according to the principles of New Urbanism."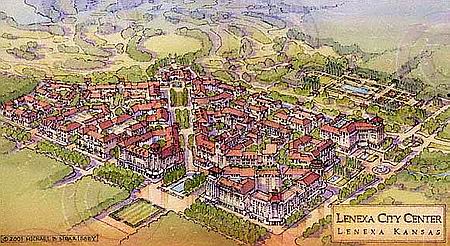 Lenexa City Center, Aerial Perspective
by Robert Kramer and Michael B. Morrissey
The project for Lenexa City Center proposes a mixed use development (residential, commercial and office spaces) to be built, according to New Urbanist principles on 62 acres (40 units/acre). The development encompasses a complex articulation of private and public spaces organized in a comfortable and elegant way and including a town square and an identifiable town center. About 1000 residential units are housed in familiar and harmonious residential typologies offering both an agreable variety and a remarkable urban character.
Developer: Haile Group, Robert Kramer and Jeff Fleeman
Principal Designers: Robert Kramer and Michael B. Morrissey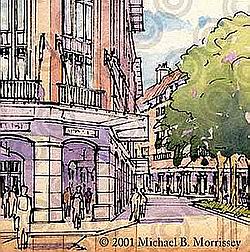 Lenexa City Center, Town Square Detail
by Robert Kramer and Michael B. Morrissey
"Located at the outer ring of suburban growth, this dense, mixed use, and urban "fragment" will act as a unified center with the capability to influence the pattern of growth around it. Like a Mandala diagram with a strong center and generative capabilities, we believe that this project will stabilize sprawling growth and set the direction for future development in the region."
Robert Kramer and Michael B. Morrissey