Hollywood has long history of bungalow apartments and hidden courtyards.The courtyard houses range from humble to sumptuous, from simple dwellings arranged around a central court to more ornate buildings combining Spanish, Italian and North African influences.
The courtyards not only create a sense of privacy and provide an illusion of green space for their inhabitants, they also provide a viable option for housing in dense urban areas.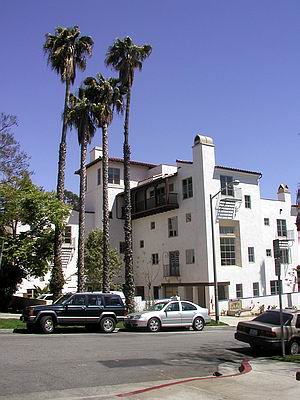 Street View of Harper Courtyard, West Hollywood, California
by Moule & Polyzoides, Architects and Urbanists
(Photo by Jean-Maurice Demoulène)
Located at 1414 Harper Avenue in West Hollywood, California, the Harper Courtyard apartment complex develops a two lot area adjacent to the famous Sunset Strip.
This complex unites and modulates interior and exterior spaces among 20 luxury units, half of which each include unique double height spaces. Units also have their own private garden overlooking lush courtyards, and a separate space for private office or study.
Other amenities include underground parking, hillside views, exterior fireplaces, and lush exterior spaces with fountains.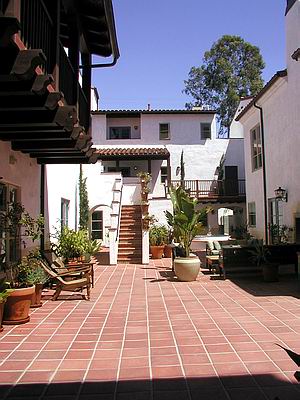 Harper Courtyard North, View from South
by Moule & Polyzoides, Architects and Urbanists
(Photo by Jean-Maurice Demoulène)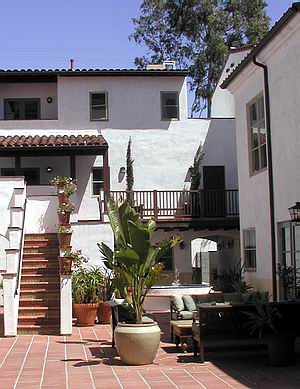 Harper Courtyard, West Hollywood, California
by Moule & Polyzoides, Architects and Urbanists
(Photo by Jean-Maurice Demoulène)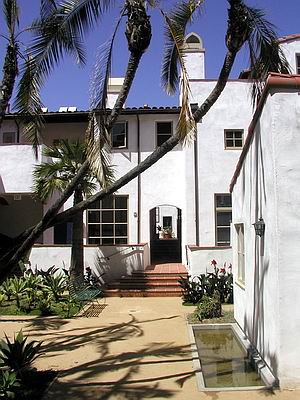 Harper Courtyard, West Hollywood, California
by Moule & Polyzoides, Architects and Urbanists
(Photo by Jean-Maurice Demoulène)