"Only a dialogue of architecture and building, of classical and vernacular cultures, of monumental and domestic, of public and private, of sacred and secular, can endow human settlements with the dignity of a common culture.
Only a great functional complexity can lead to a rich, clear, permanently satisfying and beautiful articulation of urban spaces and quarters.
Simplicity and legibility must be the goal of the complexity of an urban plan and skyline; -- a city articulated into public and domestic spaces, -- monuments and urban fabric, -- architecture and buildings, -- squares and streets, and in that hierarchy."
Léon Krier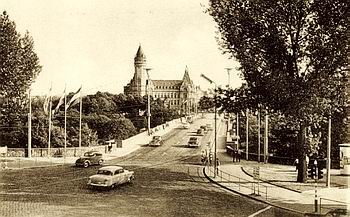 View of Pont Adolphe and Public Building, Luxembourg (1930)
Plateau Bourbon City Development (1906)
by Joseph Stübben and Pierre André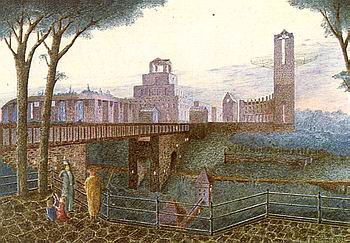 The New European Quarters, Luxembourg (1978)
View towards the Place du Belvedere
by Léon Krier
(Coloured Rendering by Gilbert Busieau)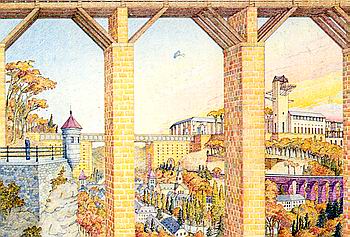 The New European Quarters, Luxembourg (1978)
View towards the Renovated Pont Grand Duchesse Charlotte
by Léon Krier
The New Sackler Library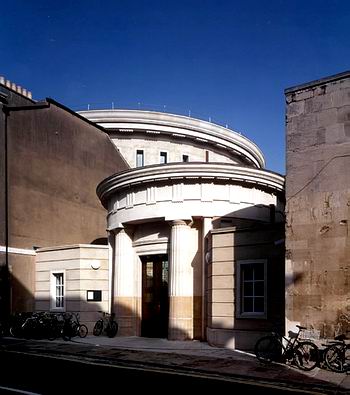 New Sackler Library, London
by Robert Adam Architects
(Photo by Robert Adam)
"The new Sackler Library is fitted inside a small urban block on the west side of the Ashmolean Museum in Oxford. The library is a complex of buildings centred around a relocated Ashmolean Library combined with History of Art, Historical and Humanities Libraries from around the university. Other buildings include the Griffiths Institute of Egyptology and the Near East, a new gallery of twentieth century art and extensions to the Institute of Archeology. The library is contained in a large circular building which is surrounded with lower wings all arranged round small courtyards. The entrance to the complex is through a small circular classical pavilion designed in the Doric order of the Temple of Apollo at Bassae first excavated by C.R.Cockerell, the architect of the Ashmolean Museum."
A New Classical Fieldhouse
Street View of Kelly Fieldhouse, Philadelphia
Saint Joseph Preparatory School
by John Blatteau Architects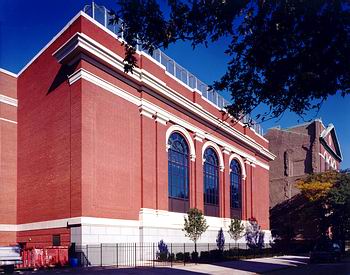 Main Facade of Kelly Fieldhouse, Philadelphia
(Saint Joseph Preparatory School)
by John Blatteau Architects
(Photo by Tom Crane)
"The Kelly Fieldhouse (with approximately 60.000 square feet of usable space) is the last phase of this Master Plan for campus development. As a multi-use facility, the Fieldhouse contains four basketball courts in addition to a game court. There is also capability for batting practice, tennis and volleyball. The facility contains an indoor running track at the mezzanine level with additional space or ping-pong and other after school activities.The roof is a full outdoor play surface accessible to both the Preparatory School and an adjacent Grade School."
Rooftop of Kelly Fieldhouse, Philadelphia
(Saint Joseph Preparatory School)
by John Blatteau Architects
(Photo by Tom Crane)