There are numerous web-zines dealing with architecture. However the impressive production of very popular new traditional architecture and new urbanism is hardly touched upon in the professional press!

Katarxis is exclusively dedicated to publishing the type of architecture and city-building which most of people all around the world bear in their hearts, love and desire: Traditional architecture, both in its Classical and Vernacular expressions!

Tradition is the result of selected popular wisdom and of the intelligence and experiences of whole generations of craftsmen, artists and citizen. It is the most advanced form of collective intelligence yet devised by humanity.
The common sense, reason and sentiment of a contemporary generation of traditional architects and urbanists - representing a vital and judicious reappropriation -- must be acknowledged as the most fruitful contributions to the renaissance of a contemporary Art of Building. This is a most vital regeneration of modern city-building and environmental planning!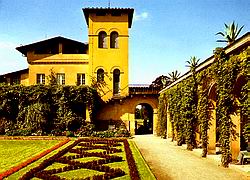 The Roman Baths in Charlottenhof park, built in 1829-1835 by Karl Friedrich Schinkel and Ludwig Persius.
The creation of this web-zine grows out of both frustrating and stimulating experiences with other architectural publications. The written architectural press is generally closed to anything about classical and traditional culture, in spite of the fact that this is an issue of relevance to a majority of people!

Most publications are solely interested in the propaganda of modernism and deconstructivism, which represent less then 10% of the world's achievements in contemporary architecture and urbanism.

On the other hand the web offers new spaces for the expression of a refreshing variety of creativity and imagination. The web bypasses the censorship of senile academies and reactionary institutions, and proposes a democracy of cultural plurality, where new classical, and traditional architecture and city-building can legitimately blossom!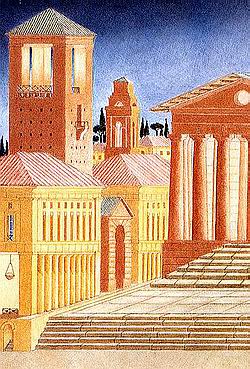 " Filadelfia ", painting by Rita Wolff (1983)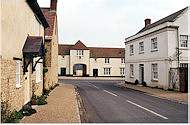 Street-view in Poundbury (Dorset, England), the most emblematic new urban creation by Leon Krier, commissioned by HRH the Prince of Wales (1988-1991)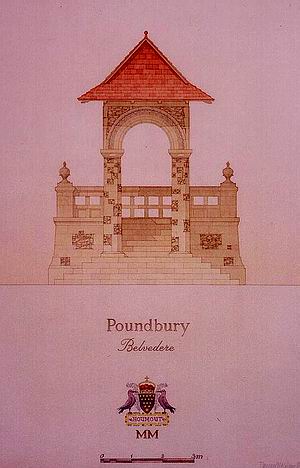 A Belvedere for the new town of Poundbury in Dorset (England), by Duncan McCallum McRoberts
" For the first time in half a century traditional buildings and towns are being constructed around the world, with increasing support and appreciation from a public eager to reinvest in a balanced co-existence with nature and the city."

Richard Economakis and Michael Lykoudis (Building Cities,1999)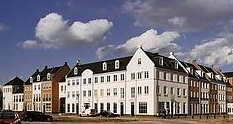 New Town of Brandevoort, Helmond, Holland (under construction) by Krier & Kohl
The development of the Katarxis online version will soon be followed up by print versions, both in book and magazine format . With a growing number of interested visitors worldwide, and because of the large spectrum of works and writings regarding New Traditional Architecture and Urbanism, - not published by the established professional press -, the expansion of the publication endeavours of Katarxis has presented itself as a most evident option!
Katarxis acknowledges positively the Internet and new technologies of communication and interaction, and participates consistently to a wider virtual "polis" afforded by the networking potentials of the web...From out of their isolation and exile, Katarxis brings together a wide diversity of works and operational theoretical concepts supporting the practice of a modern traditional architecture and city-building.

Enjoy the reading and please recommend Katarxis to your friends!
Public Loggia in Main Square
by Rita Wolff (1977)