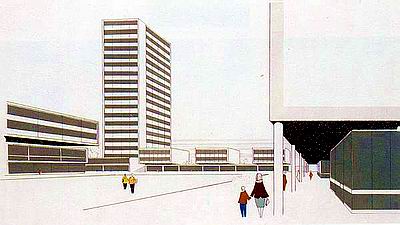 A project from the sixties to replace the historical center by the typical slum clearance and " tabula rasa " strategy.
What is the identity of the place, the memory of its inhabitants and who will recognize what in this amnesiac scenario? What was a signature of disrupture and of a contrasting new at the time appeared quickly in its overwhelming banality and triviality...The usurpated modernity of these projects revealed itself to be of timeless hollowness and of depressing contingency!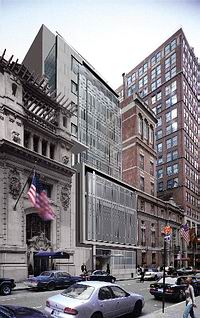 The Bond Addition to the New York Harvard Club
Compare this official faceless project to the excellent counterproject by Richard Cameron
(Katarxis page: Classical and Vernacular )
" We have confidence in this new society, which will in the end arrive at a magnificent expression of its power. We believe in it. Its power is like a torrent swollen by storms; a destructive fury. "

" The city is crumbling, it cannot last much longer; its time is past. It is too old. "

Le Corbusier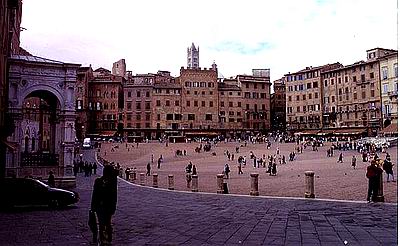 This is familiar to everybody. Even people who have never been here and who might not have any urban experience feel at home here. The Campo in Siena is an archetype of urban piazza building: it is universal and particular of its place and own history. It is historical and contemporary, modern and most importantly able of supporting the good life.

Atlantis, Tenerifa by Leon Krier (1987)
" Architectural and artistical modernism has tried to impose itself to the larger public and to the autorities not by the evident superiority of its proposals, but by the violence of its promises and pretentions. "

Leon Krier

" Choice or Fate "