KATARXIS

Temenos

" Classical architecture, either on its erudite and aulic side, or on its vernacular and popular developments, managed to encapsule the most appropiate vehicle for human expectations and memories. Despite its endless shapes and formal representations, it is particularly on its character that the main riches are to be found."

Jose Cornelio da Silva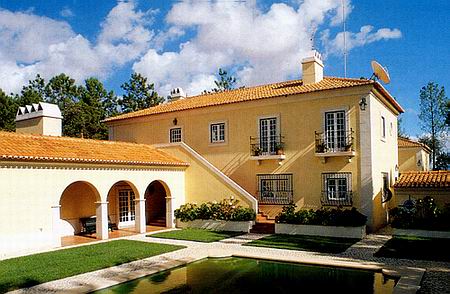 Casa Lichtenstein in Salvaterra de Magos, Portugal
by Jose Franqueira Baganha (1992)
The beginnings of our confidence in the capacity of our intellect -It is primary, cross-cultural, human, never once forgotten by the Greeks -It is this that makes Greek thought Human and not necessarily Western...

The Fall -Man realized the magnitude of disorder in the world and his capacity to control his environment was fundamentally challenged. The classical was never intended to represent things as they are. In fact the meaning was generated by how different the classical interior was from chaos out there. It was a proposal of what could be. Its basis in faith -faith in human reason. It represented, quite deliberately, an ideal. It had no misconceptions about the reality of its surroundings -war, pestilence, plague...It offered hope. It offered an oasis of order in the desert of chaos and an island of comprehension in a sea of confusion..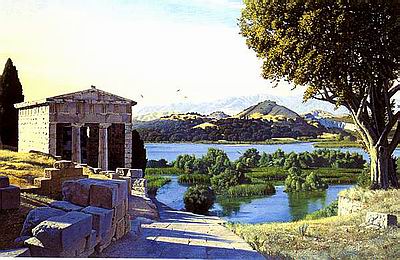 Landscape for Baucis and Philemon (1984)
Oil on canvas, 32X48 in.
Wadsworth Atheneum, Hartford, Connecticut
by David Ligare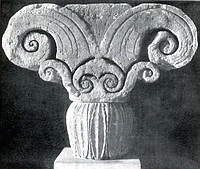 Capital from Larisa in Aeolis (about 7th B.C)
The classical orders, though elaborately sculpted, never depart from the logos of structure from which they were initially conceived....indeed it is the poetics of structure itself...(notice the fusion -pure structure and pure poetry) that forms the tectonic essence of the classical aesthetic. Look carefully at an attic base:...always fluid, carved, exquisite -never violating the downward force of the column, but infact expressing, in sculpture that very force. Entasis? The very same as in all things classical, Eros is not far..Indeed, like the force of gravity, the pangs of Eros, like so many notes from a Grecian lute, whisper between the metopes and capitals of the Hellenic temple.

The article " On Classicism, Temenos " is a shorter re-edited version from architectureink signed Domus C. Aurea (www.architectureink.com)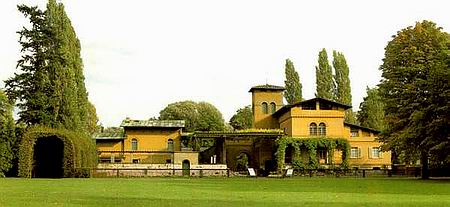 Roman Baths in Charlottenhof Park, built 1829-1835
by Karl Friedrich Schinkel and Ludwig Persius