"There exists neither authoritarian nor democratic architecture.There exists only authoritarian and democratic ways of producing and using architecture.
A row of doric columns is not more authoritarian than a tensile structure is democratic. Architecture is not political; it can only be used politically."
Léon Krier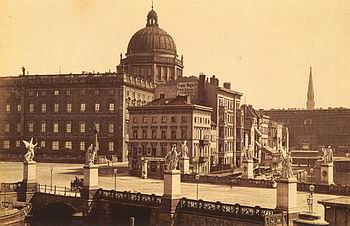 Schlossbrücke and Stadtschloss, Berlin (1885)
(Photo by F. Albert Schwartz)
Sammlung Märkisches Museum Berlin
"Where architecture exists it always transcends politics. Buildings can appear inhuman not through their architecture, but through their lack of architecture."
Léon Krier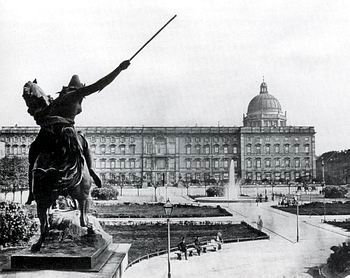 Stadtschloss Berlin, View from Schinkel's 'Altes Museum' and Lustgarten (1890)
(Photo: Bildarchiv Preussischer Kulturbesitz)
"Das Schloss?? Eine Ausstellung über die Mitte Berlins"
(Published by Ernst&Sohn Verlag, 1993)
"Buildings become inhuman when abstracted from architecture or dressed in false architecture. Kitsch is both abstraction and false appearance. There is neither reactionary nor revolutionary architecture."
Léon Krier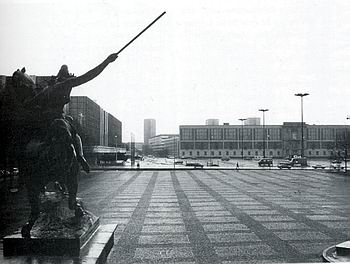 Lustgarten, Marx-Engels Platz, View from 'Altes Museum', Berlin (1992)
(Photo: Private Collection Wilhelm von Boddien)
"Berlin?? Eine Ausstellung über die Mitte Berlins"
(Published by Ernst&Sohn Verlag, 1993)
"There is only architecture or its absence, that is: its abstraction.
There has never been protest against architecture. There has only been protest against lack of architecture."
Léon Krier
(Quotes from Léon Krier's keynote address at the UIA XV, Cairo (1985)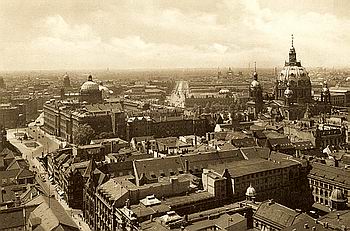 Aerial View with Stadtschloss and Dom, Berlin (1930)
(Photo: Sammlung Eickemeyer, Berlin)
The Stadtschloss of Berlin organized substantially the urban cohesion of the city's historic "Mitte" and offered an elegant and historically dense building ensemble of great architectural and sculptural refinement. It was one of the few monuments which survived the Second World War with relatively minor damage. The head of the DDR regime Walter Ulbrich ordered it to be dismantled in 1950. The Stadtschloss ensemble was blown up piece by piece in a systematic and destructive fury over several months'! It was supposedly too much a dominant symbol of the 'Old Germany'!
A growing popular pressure in favor of a historical reconstruction of the Berliner Stadtschloss has developed during the last years...The unfatiguable Wilhelm von Boddien and the 'Historische Gesellschaft Berlin' have provided both the economical, functional, cultural and urbanistic evidences for an integral reconstruction process and contemporary efficiency within the context of a reconstructed centre of a reunified Berlin and Capital of a reunified Germany.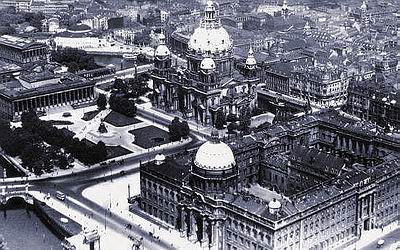 Stadtschloss in Berlin
(Photo by Gesellschaft Historisches Berlin)
"The 'Gesellschaft Historisches Berlin' is committed to preserve, to complete and to eventually renovate in a traditional manner the centre of Berlin and its historic neighbourhoods. The society encompasses these objectives by cultivating the history of Berlin, particularly its architectural history and is decided to take influence in this context.
By means of exhibitions, lectures, discussions, seminars, guided tours as well as publications, the society educates on history, history of architecture and the urbanistic development of Berlin, with a particular focus on popular education.
The Gesellschaft Historisches Berlin interacts with the political authorities of the city and aims at empowering citizens' input in the context of its objectives"
Gesellschaft Historisches Berlin
Gesellschaft Historisches Berlin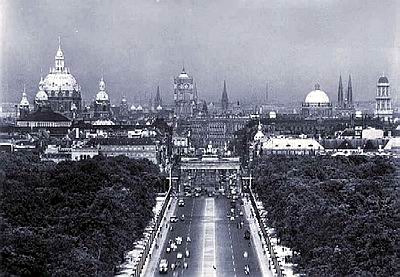 Berlin in 1939
(Photo by Gesellschaft Historisches Berlin)
"We can look at architecture in two ways: as a piece of technology, a "machine for living"; or as just one part of many things that go to make up a society. If we look at architecture as one of the pieces of the huge jigsaw that makes up a society, it must be bound up with the history, activities and symbols peculiar to that society - in other words its customs and traditions. Once you accept that architecture is a part of the unique identity of a society or community, you have to accept that it is a part of the traditions of that community."
Robert Adam
"Tradition and Architecture"
(INTBAU launching conference, January 2002)