An Interview of Nikos Salingaros with Léon Krier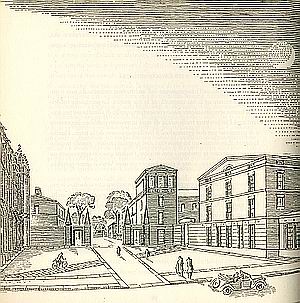 New College Residence, Oxford, England
by Léon Krier (with John Robins)
Nikos Salingaros:
"Has humanity, as you claim in your writings and talks, made a fundamentally false step in building its cities, and if so, what can be done about it now?"
Léon Krier:
"Humanity lives by trial and error, sometimes committing errors of monumental scale. Architectural and urbanist modernism belong -- like communism -- to a class of errors from which there is little or nothing to learn or gain. They are ideologies which literally blind even the most intelligent and sensitive people to unacceptable wastes, risks, and dangers. Modernism's fundamental error, however, is to propose itself as an universal (i.e. unavoidable and necessary) phenomenon, legitimately replacing and excluding traditional solutions. Thank God there are, through the applications of New Urbanism in the last 20 years, enough positive experiences worldwide to see a massive return to common-sense solutions."
UCLA Southwest Campus Student Housing
Los Angeles, California
by Moule & Polyzoides Architects and Urbanists
Nikos Salingaros:
"Many of the leading new urbanists look to you for inspiration. What are your suggestions for the future of cities if the world can be convinced to build in a New Urban context?"
Léon Krier:
"There already exist excellent New Urbanist models for living in small and medium size towns; higher density projects are only recently being completed, but they don't get the media attention they desserve, so the learning process is slower than it could be. Very great sums are being invested to renovate 1950s and 1960s modernist estates and campuses, but many of these are no more than the artificial prolongation of failed experiments of social and architectural collectivism.
New Urbanism is not utopian and does not impose social master plans. Instead, it allows the infinite variety of human talent to build harmonious and pleasing environments. It
channels competitive forces to flourish as good neighbors while pursuing their own self-interest. The very great challenge of the future, however, will be the urbanization of suburbia, the redevelopment of sprawl.
The theoretical models are ready, but their application is slow. What is now already certain is that even the most soulless dumps on earth can -- with the right ideas and people, and sometimes very modest means -- be turned around to become places of beauty and human thriving."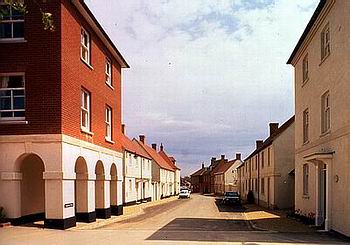 New Town of Poundbury, England
by Léon Krier
(Photo by Léon Krier)
Nikos Salingaros:
"There remains a serious misunderstanding. Planners -- and more importantly, citizens in general, including those elected representatives in a position to make decisions -- don't realize that the solutions you propose apply to all cities, irrespective of style. Urban structure obeys scientific rules that are independant of region. There is a secondary dependance on local tradition, climate, resources, and materials, but that has long been erased with the uniform modernist approach.
Current planning practice creates two separate and artificial images of urban form: traditional, classical and historic centers on the one hand; and vital, dynamic, growing urban fabric on the other. Within this mind-set, the governing body of a city comes to you only when it wants to revitalize itself in a neo-traditionalist manner. Have the New Urbanists, in carving out a niche for themselves, helped to isolate New-Urbanism from mainstream planning? How can this be corrected, and how do you convince the profession that there is no such difference?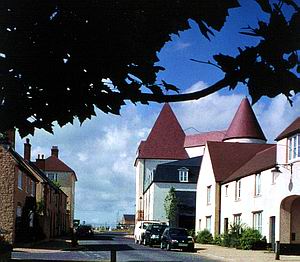 Street View in New Town of Poundbury
by Léon Krier
(Photo by Léon Krier)
Léon Krier:
"You are absolutely right to point out that urban structure as a set of organizational principles is largely independent of style. Many New Urbanist projects are done using buildings in tradtional style because this is the way that we prefer them to be done; at least for the time being.
Modernist architecture is generally so bad that it is almost totally inappropriate for most common uses and climates. The most successful and well publicized New Urbanist projects are of course the neo-traditional ones like Seaside, Celebration and Poundbury, but there are plenty of similar schemes done using modernist architecture in Holland, Denmark and Germany, which follow the urban principles but are architectural no-man's land -- and consequently remain unknown.
I personally resist for the moment mixing traditional and modernist architecture because from experience one modernist building is enough to destroy the spirit even of a largely traditional scheme. The Steven Holl building in Seaside may be the best example of this. Modernists seem to be so disorganized in their ideas that they are quite unable to realize anything so coherent and complex as Windsor or Poundbury; the situation is so critical that Andres Duany and I have discussed for a while designing a modernist town simply to show them how it is done.
A town design code could easily limit itself to Le Corbusier's 1920s or 1950s grammar and produce a meaningful townscape; the same could be done with Frank Lloyd Wright -- or even Zaha Hahid or Oscar Niemeyer idioms. New Urbanists are at any rate not limited to traditional architecture, and yet a lot of people spend sleepless nights and are torn between old and new allegiances. But I would say that this is not a transcendental or moral issue, and in the end every one should do in this area what he or she feels is right; and if one is not sure, experiment around a little if the client is prepared to take the risk and then make a lucid choice."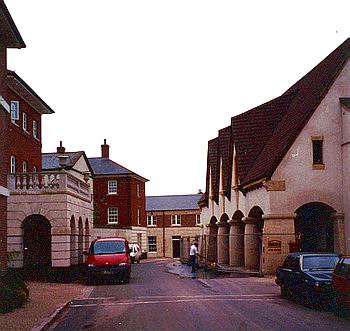 New Town of Poundbury with New Market-Hall
by Léon Krier (Masterplan) and John Simpson (Market-Hall)
(Photo y Léon Krier)
Léon Krier
"However, if you are faced with a political situation of common complexity I would always recommend a local vernacular as the basic architecture, because it moves design issues away from the arbitrary and from the political terror of modernist moralism. This choice reduces stylistic and architectural errors to the level of the bearable and away from spectacular errors so common to modernist experiments. Traditional detailing generally has to do with resolving practical problems of building in an elegant way, whereas style is really the quality with which you master what are technological issues.
What we have to point out to modernists again and again is that in democracies even architecture and urbanism are a matter of choice, and are not metaphysical constraints or absolutes of their own making. Those who don't accept choice in these matters are ultimately anti-democratic, totalitarian and possibly un-modern, however futuristic their buildings may look."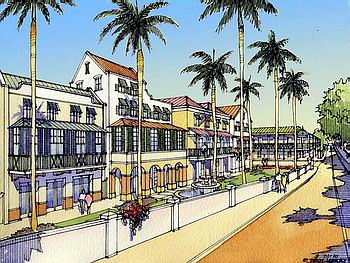 Seafront Development Baystreet
by Seth Harry Inc. Architects and Planners
"The Future of Cities: The Absurdity of Modernism"
(by courtesy of PLANetizen)
Please click the link below to read the whole interview: