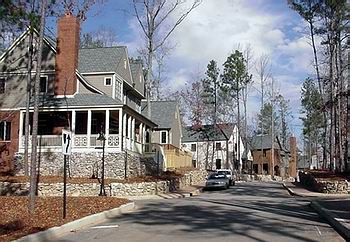 Mount Laurel
by Duany & Plater-Zyberk
(Photo by Gary Justiss)
Revivalism and Modernism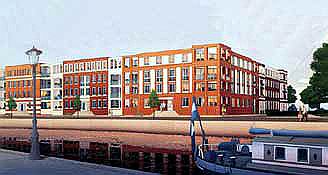 Gildenkwartier, Amersfoort, Holland
200 New Apartments near the Centre of Amersfoort
by Rob Krier and Christoph Kohl
"Being a historically modern construct, style is a by-product of an understanding of the world that dissects time into distinct and subsequently perceived, unique periods - it is a technological (manmade) way of compartmentalizating history. The artificial parenthesis placed around certain periods in certain places by some historians are responsible for what we have been trained to know as styles - wether it be Greek style, Mission style, Tudor style, Mediterranean style, Charleston style...., the list is endless and grows ever more specific. When history is understood this way, two approaches to architectural practice ultimately result - revivalism and modernism.
It is these two attitudes that dominate current architectural practice. Stylistical revivalists, which is what many (not all) traditional architects are, copy these particular periods or rather the motifs from these periods with little understanding or consideration of their constructional (tectonic) or symbolic origin. Modernists reject these stylistic periods as being nothing but of passing historical interest, irrelevant to "today". In place of copying historic or regional styles they choose to "invent" personal styles."
Michael Mesko
(Letter posted on Tradarch List, University of Miami)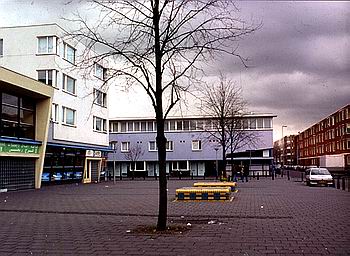 Contemporary Piazza in Den Haag, Holland
(Photo by Lucien Steil)
New Urbanism and Style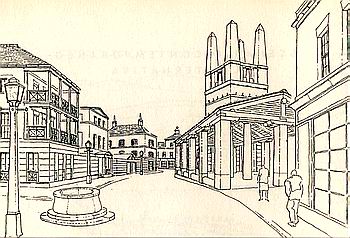 Traditional Town Building
by Léon Krier
"Choice or Fate"
(Andreas Papadakis Publisher)
"The New Urbanist debate breaks down into two opposing camps. On one side are the stylistic revivalists - those who encourage codifying style into their urban plans and on the other side are the modernists who suggest style is irrelevant and that any New Urbanist plan should allow for a healthy dose of modernist architecture in their communities - at the very minimum some "Frank Lloyd Wright Style" or some other "modernist lite style" sprinkled here and there.
The Revivalists, believing it to be the only way of guaranteeing good architecture, paralyze the practice of architectural design by limiting its expression to one or more collections of historical motifs (the Greek Revival model, the Victorian model, etc...). In this scenario the authority and the responsibility of the builder or architect is totally undermined. His / Her concern becomes less, -'How do I apply tradition to the circumstances of this client and context and thus make good urban space and enduring and appropriate architecture?'-, than -'Do I have enough acroteria and anthemion and baseless Doric to qualify as Greek?'-, or whatever motifs are necessary to achieve the prescribed style.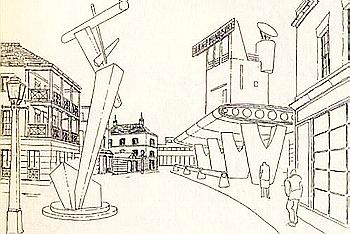 Modernist Townbuilding
by Leon Krier
"Choice and Fate"
(Andreas Papadakis Publisher)
The New Urbanists who carry the banner for modernist styles forget that the foremost underlying premise of the modernist approach assumes each building to be a idiosyncratic expression of the architect and his/her private ideas. Thus the idea that a building should be appropriate relative to its rank among other buildings is impossible since each modernist building is a self contained and closed system or language. Modernist architecture, incapable of making cities of discernable hierarchal legibility, is then quite contrary to the hierarchy New Urbanist plans go to great lengths to establish. New Urbanists have laudably distinguished in their plans some streets, spaces, sites, and buildings as more important than others. Modernist architecture in a traditional plan is oxymoronic."
Michael Mesko
(Letter posted on Tradarch List, University of Miami)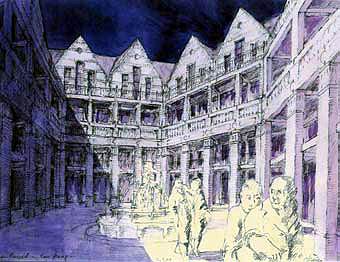 Rivierenburt, Courtyard Housing, Den Haag
by Rob Krier and Christopher Kohl