"People ask, 'How can you find men to do your class of work these days?', as if men no longer can or want to produce skilled work. The truth is that whenever there is good work to be done there are men to do it.
We have never had difficulty in obtaining first class joinery; we prepare full size details and specify the quality, and provided a reputable builder is doing the work it normally needs no further explanation. The same goes for plasterers, bricklayers, slaters, stonemasons and even woodcarvers and coppersmiths.
Generally, I find that the more intricate the detail, the more willing the tradesmen are to take on the work."
Quinlan Terry
"Seven Misunderstandings about Classical Architecture"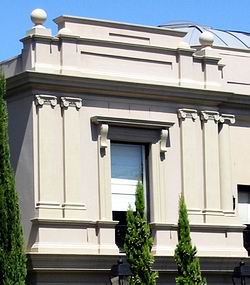 Details of Contemporary House in Melbourne, Australia
by Christopher Doyle
"I think the working man is misunderstood by everyone, not least himself. There is, after all, no fundamental difference between the tradesmen, the architect or his employers. They are all men made in the image of God with needs and aspirations. But I have noticed that we are all far less covetous when we are working on a job we enjoy; at the end of the day we can go home and think about it and return the next day to take the work a little further.
I have heard this from so many tradesmen, that it must be true; it is the boredom of repetitive work, work which requires nothing from you, that makes for an empty mind. The empty mind is a dangerous thing because it soon gets filled with a host of other thoughts which no industrial expert can control..."
Quinlan Terry
"Seven Misunderstandings about Classical Architecture"
( Architectural Design and Academy Editions, 1981)
Waller Residence, Baton Rouge, Louisiana (1974)
by Mike L. Waller
(The Charrette Design Group)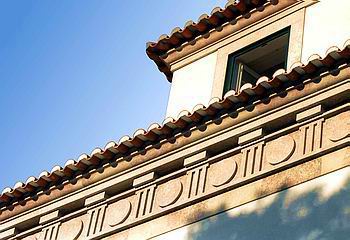 Cornice Detail of New Townhouse in Lisbon, Portugal
by JosÚ CornÚlio da Silva and JosÚ Franqueira Baganha
(Photo by J.C. da Silva & J.F. Baganha)