"Yet Coherence in architecture, distinct though it is from beauty, has a function of its own. Humanised mass, space, and line are the basis of beauty, but coherence is the basis of style."
Geoffrey Scott
"The Architecture of Humanism"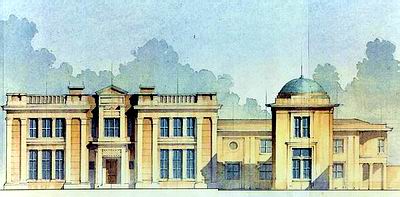 Ashley Country House, Hampshire, England
by Robert Adam Architects
"This major new country house will e built on virgin farmland in Hampshire. The accommodations include 10 bedrooms, a series of state rooms, a family wing, a farm office, garaging staff accommodation and a pool house. The buildings have a highly individual classical design. The house and outbuildings have been designed with a 50 acres landscaped park. Robert Adam worked closely with Barton Wilmore Environmental to create a unified concept for the park and house."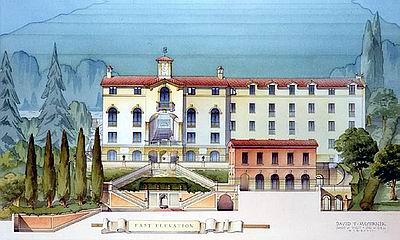 Tasis, American School in Lugano, Switzerland
Dormitories and Classes
by David Mayernik
"Mass, space, and line afford the material of individual aesthetic pleasures, of beauty isolated and detached. But architecture aims at more than isolated pleasures. It is above all else an art of synthesis.
It controls and disciplines the beauty of painting, sculpture, and the minor arts; it austerely orders even the beauty which is its own.
It seeks, through style, to give it clarity and scope, and that coherence which the beauty of Nature lacks."
Geoffrey Scott
"The Architecture of Humanism"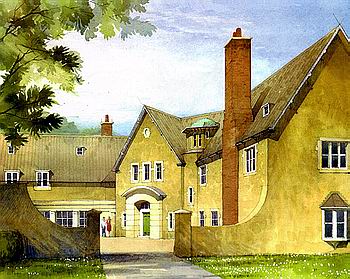 New House in Yorkshire, England
by Robert Adam Architects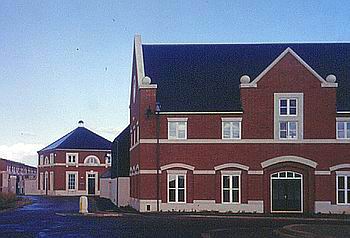 Buildings in Poundbury
by Léon Krier and Local Architects
(Photo by Léon Krier)
"Nature, it is true, is for science an intelligible system. But the 'groups' which the eye, at one glance, discovers in Nature are not intelligible.

They are understood only by successive acts of attention and elimination; and, even then, we have to supplement what our vision gives us by the memory or imagination of things not actually seen.

Thus, Order in Nature bears no relation to our act of vision. It is not humanised. It exists, but it continously eludes us.

This Order, which in Nature is hidden and implicit, architecture makes patent to the eye. It supplies the perfect correspondance between the act of vision and the act of comprehension.

Hence results the law of coherence in architecture; what is simultaneously seen must be simultaneously understood."

Geoffrey Scott

"The Architecture of Humanism"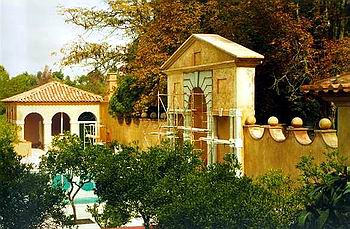 Quinta das Torres, Azeitão, Portugal (2000)
New Swimming Pool Court Yard and Pavilions in the Garden of a 16th Century Manor House
by José Cornélio da Silva and José Franqueira da Baganha
"Style, through coherence, subordinates beauty to the pattern of the mind, and so selects what it presents that all, at one sole act of thought, is found intelligible, and every part re-echoes, explains, and reinforces the beauty of the whole."
Geoffrey Scott
"The Architecture of Humanism"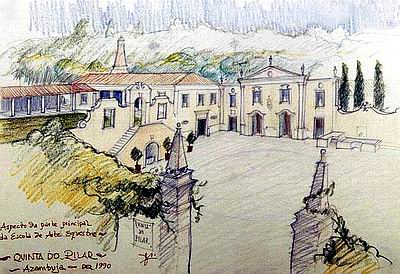 Quinta do Pilar, Azambujo, Portugal (1990)
by José Cornélio da Silva and José Franqueira Baganha
The quotes of Geoffrey Scott are taken from his outstanding book:
"The Architecture of Humanism.
A Study in the History of Taste"
(Published at W.W. Norton&Company, New York - London)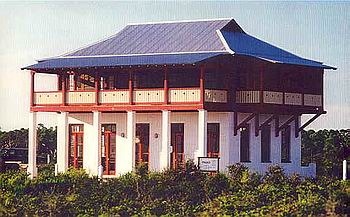 House in Rosemary Beach
by Elizabeth Guyton
(Photo by Elizabeth Guyton)
"I refer to it as a Sample House, illustrating the forgotten language of the pan-Caribbean hybrid, its principles of tectonics and resulting character.
The masonry first floor capped with a wooden second floor is a reflection of historical compression as found in St. Augustine, whereby the English added their vernacular second floor additions to original Spanish masonry structures.
The proportions and detailing, especially at the second floor porch, are Jamaican and can be found throughout the island. Other elements are transformed and blended.
In addition, the house happened to meet the requirements of two codified building types: the Small House Type, and the Sideyard House Type. These two types could be read from different angles along the street, and the sales people led prospective clients to the house as they explained Rosemary Beach's architectural code."
Elizabeth Guyton