Towers have always been reserved to particularly significant monumental functions, rare, exceptional and symbolic landmarks in significant locations, organizers of vistas, of connections, orientating and highlighting meaning, purpose and hierarchy within the order of the built environment.
'Axis mundi' articulating the profane and the divine, or simply the earth and the sky, and guiding the stream of apeasing energies, passions, prayers or inspiring ideals, the tower elevated the spirits and the minds to levels of etheral purity, and regenerated the eyes with visions of limpid wholeness and heavenly serenity.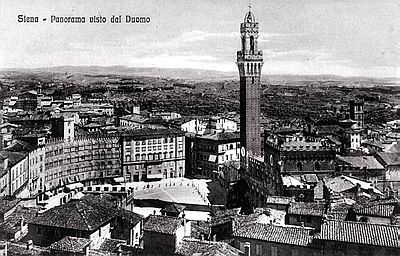 Panoramic View of the Campo in Siena
(Picture from Joel Crawford's Archives)
Towers have of course carried expressions of power and hubris, of vanity and domination by the literal reflection of superior height and vertical mass, and by the potentials of control, defense and force.
However the use of towers was not limited to antique fortifications, but concerned antique lighthouses, antique temple and mausoleum structures. The combined typological and architectural programs of both military or civil towers and of sacred towers led to the Christian church towers and spires and the islamic minaret, monumental city tower gates, and many traditional monumental tower architectures including early skyscrapers in the USA.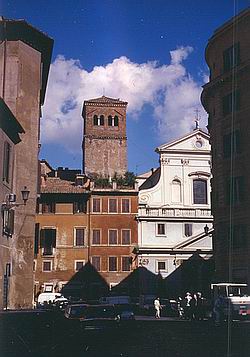 San Eustachio from Via Monterone
12th Century Campanile and Baroque Facade
(Photo by Lucien Steil)
The Italian 'Campanili' were often freestanding towers, both associated to the churches as bell-towers and equally associated to the city hall as watch-towers, clock-towers and civic bell-towers. They became an undissociable feature of communal buildings and expressed (particularly since the times of communal independence) the freedom, the autonomy and the pride of the urban community and of its urban institutions.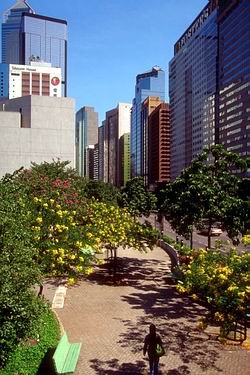 View of Highrise Hong-Kong
(Photo from Tripod Image Gallery)
The modern skyscraper derives both from fortification and feodal tower typologies as well as from antique pyramid or ziggourat temple structures, and also from later examples of sacred towers, particularly of romanesque, gothic and ecclectic inspiration.
It is however the mechanical, rationalizing and scaleless addition and compilation of basic geometrical and spatial moduls which characterizes mostly the banality of contemporary towers, sprawling in a random way in the globalized suburbanization. The modernist highrise seems to have only sheer limitless height to challenge, imposing the most wildest technology budgets for no improvement of whatever kind of a civilized urban life.
All symbolical, tectonic, typological, ethic, architectural ties with a historic tradition of appropriate civic towers have been abandoned within this private usurpation of the urban skies! The trivialization of towers as banal private and artless urban artifacts and the vertical overconcentration in cities and suburbs are participating to the destruction of city and countryside as much as they damage the quality of urban life. The false lyrical celebrations and the academical nonsense propagated to claim 'carte blanche' for continuing the 'delirious' experimentation with highrise and megastructures will convince only those who do not have to be convinced! Common sense and practical reason continue to resist to arguments higher than six floors.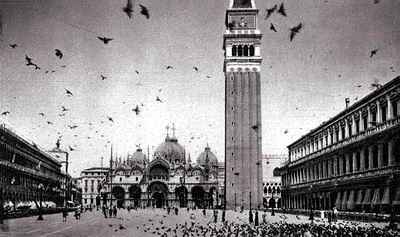 Piazza San Marco in Venice
(Photo from Joel Crawford's Archives)