Adele Freedman: "What happens next?"
Jane Jacobs: "The New Urbanists are going to win out."
(Interview in Architecture Magazine, 2000)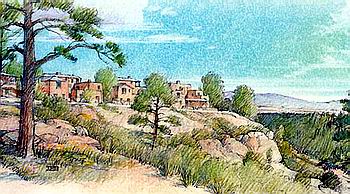 Los Alamos Downtown Master Plan, Los Alamos, New Mexico
by Moule & Polyzoides, Architects and Urbanists
"New Urbanism is not a transcendental ideology but a versatile technique of settling land. Even though its goal is to create or restore communities, it does not not posit these as products of self-sacrificing fantasy but rather as structures which best serve the self-interests of human individuals and groups, be they families, companies or institutions, in rural or urban settings.
In order for such communities to work, they need to evolve certain patterns of public spaces, of density and size, of hierarchy, of admixture and proximity. Their complexity, however, should not result from social ingeneering, but needs to be allowed to grow through a variety of complementary activities developed on neighbouring plots, forming urban frontages along streets, squares, parks or countryside within an urban masterplan."
Leon Krier
(Published by Open Democracy, August 2001)
Los Alamos Downtown Master Plan, Los Alamos, New Mexico
Performing Arts Center with Public Piazza
by Moule & Polyzoides, Architects and Urbanists
The Los Alamos Downtown Master Plan aims to create a pedestrian-oriented town center in a downtown currently dominated by suburban zoning and parking lots. It includes a north-south retail main street, anchored by a performing arts center facing a public plaza to the north and an outdoor amphitheater overlooking the spectacular Los Alamos Canyon to the south. Other proposed development along Los Alamos Canyon includes a public park, courtyard housing, and an office campus for use by the National Laboratory.
Implementation of the Master Plan is achieved through a series of integrated public and private actions, which include improvements to the civic infrastructure of parks and streets, the adoption of a new regulating plan and development code, and the creation of a 'Park Once' district. These actions, when combined, establish a comprehensive and expedient framework for private development.
The Master Plan was generated during a five-day, on-site public charrette. Over 1000 people participated in the charrette, which was documented online at: